Ultherapy®: The Non-invasive Lift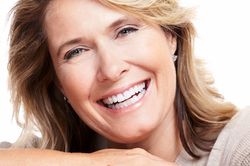 When patients come to us with sagging skin on the face, neck, or jaw line, Dr. Stephen Metzinger will commonly recommend Ultherapy®. This revolutionary treatment uses ultrasound technology to penetrate and reach the deeper layers of the skin. The system promotes collagen production, resulting in a natural lifting and tightening. Unlike some other laser lifting procedures, the treatment does not remove any superficial layers of the skin. Ultherapy® treatment at our Metairie, LA, plastic surgery practice can be a wonderful solution for patients who are seeking a quick, safe, and simple cosmetic enhancement. Because the procedure is completely non-invasive, it does not require any downtime for recovery. If you are concerned with lax skin on the face, neck, or jaw and would like to learn more about how Ultherapy® treatment can benefit you, please contact Aesthetic Surgical Associates to make an appointment with Dr. Metzinger.
What to Expect During the Procedure
When you arrive at our office for your Ultherapy® treatment, we will begin by carefully cleaning your skin and applying a thin layer of gel. This solution is designed to increase the effectiveness of the ultrasound therapy. Once your skin has been prepared, the technician will use ultrasound imaging to gain a clear picture of the deeper layers of your skin. Using this information, we can customize the procedure by determining the most appropriate areas to target for treatment. Each visit will typically last between 60-90 minutes, during which time you may experience some very slight discomfort. We recommend that our patients undergo at least three Ultherapy® sessions so that they can achieve the best aesthetic outcome.
Ultrasound Technology and Collagen Production
Some laser lifting procedures can penetrate deep into the skin and remove the outer layers to create a younger-looking appearance. While this type of treatment can be effective, some patients prefer a non-invasive technique that will still achieve beautiful results. Ultherapy® uses ultrasound technology promotes collagen production without affecting the outer layers of the skin. This energy applies controlled heat which causes the naturally occurring collagen and elastin within the tissue to solidify, creating an instant tightening effect. It also stimulates the body's natural healing response to produce more collagen and elastin, resulting in plump, refreshed-looking skin over time.
After Your Ultherapy® Treatment
Because Ultherapy® treatment does not affect the outer layers of skin, there is no downtime or recovery time following your procedure. Patients are able to return to their normal routines, including errands, work, or exercise, immediately after treatment. You will notice an improvement in the elasticity of your skin that will gradually become more noticeable over the next several months as more collagen is produced. Most patients are very happy with the results and make additional Ultherapy® appointments to maintain their enhanced appearance in the future.
If you have been seeking a non-invasive alternative treatment to a facelift, Ultherapy® may be just what you have been looking for. Please contact our office to schedule a consultation and find out if Ultherapy® is right for you.