Achieve a More Curvaceous,
​​​​​​​Younger Figure with a Brazilian Butt Lift
Image of woman's rear with lines to show increased perkiness. Dr. Stephen Metzinger performs safe, effective Brazilian butt lift procedures at his office in Metairie, LA. This treatment is a less-invasive technique than traditional butt lifts to enhance the rear. The approach involves injecting the patient's own fat into the upper quadrant of the buttocks for natural-looking results. A Brazilian butt lift can improve confidence, providing patients with a more youthful, prominent, and perky buttocks.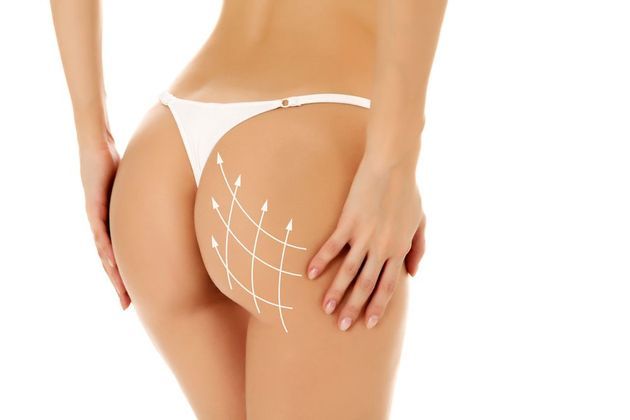 Brazilian Butt Lift Candidates
A Brazilian butt lift procedure is able to help patients looking to achieve a rounder, fuller, more pronounced rear. This technique is able to add volume and perkiness to the buttocks. However, it cannot address excess skin. For patients suffering from considerable drooping tissue, especially after significant weight loss, a traditional butt lift may be more appropriate. Candidates must also have enough fat to graft to the buttocks, and be able to sustain their weight. Ideal candidates are typically 20 to 30 pounds over their ideal weight. Additionally, patients should be in good general health, and not smoke or drink to excess, as these habits can decrease your ability to heal after surgery.
The Procedure
Brazilian butt lifts are essentially two procedures in one, as the fat that is injected is first harvested through liposuction. Both steps can be performed under local anesthesia, but Dr. Metzinger may recommend general anesthesia or sedation for more extensive fat removal, or if you are anxious about the procedure.

The fat is first harvested from various parts of the body, such as the stomach, love handles, hips, and thighs. Dr. Metzinger can use power-assisted, micro air-assisted, ultrasound-assisted, or laser-assisted liposuction techniques. This step can noticeably refine your figure, leaving your features more contoured. The fat is then purified, and only the best tissue is used for injection. Dr. Metzinger slowly injects the purified fat to the upper quadrant of the buttocks. This portion of the procedure is performed with great care and at varying depths and areas within the buttocks to provide a natural look and feel. Dr. Metzinger is highly experienced and can use specialized techniques to help prevent the fat from being resorbed during recovery. Learn more about the details that go into a Brazilian Butt lift here.
A Brazilian butt lift can restore a youthful look and help you achieve the perky rear you have always wanted.
Your Recovery
After your Brazilian butt lift, your body will need time to heal. During this time, it is important that you avoid strenuous activity and follow Dr. Metzinger's instructions for at-home care and follow-up appointments. You will need someone to drive you home, and it is recommended that you have assistance for at least 24 hours following your procedure. You will also be required to wear a compression garment to help with healing.

Dr. Metzinger and our staff will provide you with additional instructions for properly caring for your incisions, and wearing your compression garment. It is especially important to avoid putting pressure on your buttocks after this procedure to avoid causing your body to reabsorb the injected fat. Dr. Metzinger will work with you to determine your individual recovery timeline, and how best to preserve your results.
Learn More
Brazilian butt lifts have helped both men and women achieve a more proportionate and sensuous butt, and improve their overall figure in the process. This natural approach to body contouring can restore a youthful look and help you achieve the perky rear you have always wanted. To talk with Dr. Metzinger about your candidacy for a Brazilian butt lift, contact us today for a consultation.