Louisiana's Health & Fitness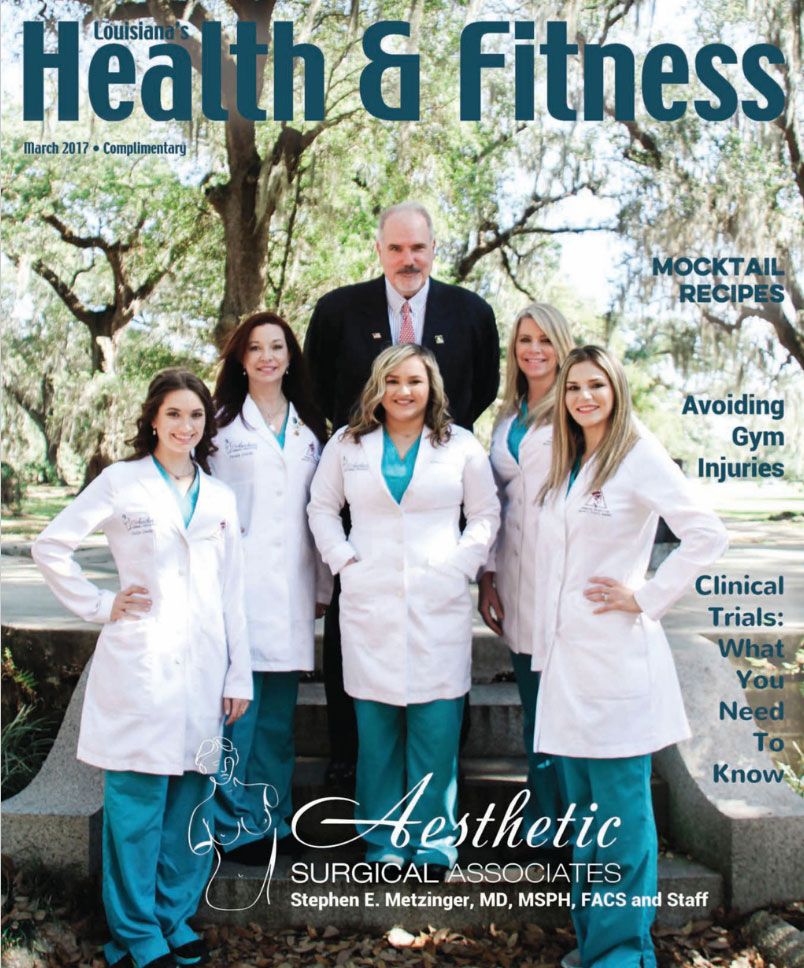 Having begun his practice, Aesthetic Surgical Associates (ASA), in 1996, Dr. Metzinger has worked in the field long enough to see significant changes and improvements in his chosen career. "I've seen smaller incisions, more balance, less radical procedures, more natural results," he said. Other industry improvements include patient education and building a culture of patient safety. Dr. Metzinger said, "I think these are all things that are much better today than they were 30 years ago." Less invasive, nonsurgical procedures have become more common as well, such as Botox and fillers.

"One of the beauties of plastic surgery is literally the skin and its contents," the New Orleans native said. "It's really creative thinking, to look at a problem from a different way, to find a better way to do things, and that's what I love about it."

Dr. Metzinger also acknowledges the effect that social media and reality shows have had on the industry, including one particular reality TV family, the Kardashians. "People now come in and routinely ask me about biotin for their hair, which they never would have years ago. I credit the Kardashians for that," he said.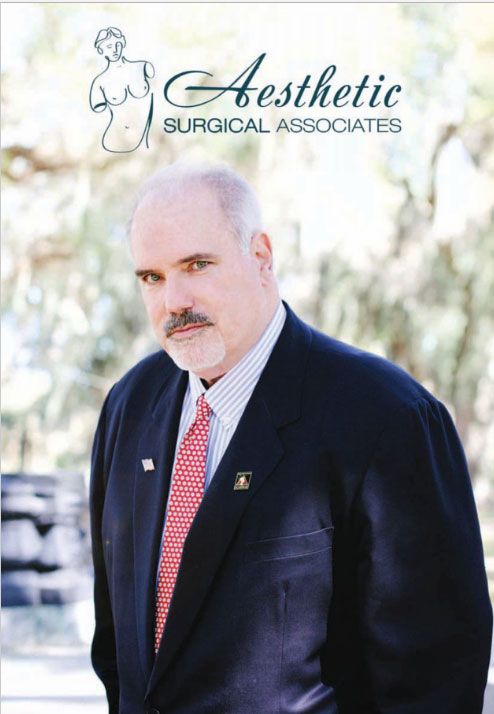 "There are 10 main things we do in terms of surgery," Dr. Metzinger said. Procedures include: breast augmentation, lift and reduction, liposuction and tummy tuck (body contouring), rhinoplasty, face lifts , eyelids, forehead lifts and fat grafting. The clinic also offers non-invasive services such as Botox, fillers and skin care. "It's a fairly focused practice," he said.

While some surgeons might be tempted to jump on the latest "it" filler, Dr. Metzinger admits that "I'm not the first guy to market it." Instead, he likes to research new products and technologies before offering them to patients. "We like to be up-to-date and provide the latest in technology for our patients, but if you're looking for someone who uses something for the first time, then I'm probably not that guy," he said. "We are a safety-first practice, and that's probably going to be on my tombstone."

Before any procedure, Dr. Metzinger meets with the patient to get an overall health history. Then he finds out what the individual is interested in, whether it's something more invasive, less invasive and rejuvenation versus fixing something that's perceived as a defect or a problem. "Then we go through the different modalities or mechanisms that we have to repair them or the problem."

Aesthetic Surgical Associates sees a wide variety of patients. "We literally do aesthetic surgery (on patients) from their teenage years into their 90s." It all depends on the health of the patient and the safety of the procedure. Younger people are typically more interested in breast augmentation and liposuction, whereas older people seek out face lifts. "And then you have a group in the middle that's everything from mommy makeover to first Botox treatment," he said. The clinic also offers gynecomastia (over-development of the male breast) surgery for males.

With so many procedures available these days, "there's literally something for everyone," Dr. Metzinger said. The ideal patient is healthy and has a specific problem they want corrected. Dr. Metzinger stressed the importance of the right procedure for the right patient. "There are all these different things you can customize to that particular patient, and that's what I really like about plastic surgery. If somebody comes in and says 'I can't breathe through my nose,' they have a deviated nasal septum; you can go in and fix that. And to fix that with minimum bruising, swelling and downtime, it's great. And they get their life back so they look better and they work better— form and function."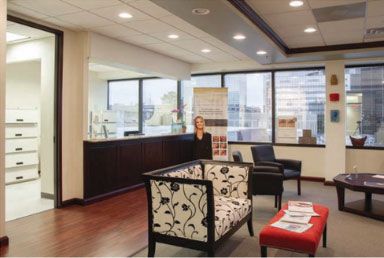 Downtime greatly varies depending on the procedure and the individual. "No one can predict the vagaries of wound healing," he said. Patients typically recover in one or two weeks. "By six weeks, most people are doing everything they want to do," he said.

While it's easier than ever to find information online, Dr. Metzinger stresses that finding factual information is crucial to patient education. Credible sources such as surgery.org and plasticsurgery.org are good starting points. Physicians have also become better at breaking down medical jargon in layman's terms, which Dr. Metzinger thinks is helpful for the patient. He said, "The more knowledge we can give the consumer the better consumer they can be."

When selecting a surgeon, research is key. Dr. Metzinger stresses five things to look out for. Your surgeon should have board certification, particularly the American Board of Medical Specialties (ABMS) and Accreditation Council for Graduate Medical Education (ACGME). "What you want to avoid is charlatanism. You want to avoid the person who's not formally trained in plastic surgery performing plastic surgery." Request to see pre-and post-operative photographs and ask how many procedures the doctor has performed. It's also important to make sure your surgeon has hospital privileges. "I believe very strongly that you shouldn't be allowed to do anything in your office or a surgery center that you don't have privileges to do in a hospital. It's a very simple concept, but we don't follow that in Louisiana for some reason," he said. "You should also check up on any sort of sanctions by the state licensing board for malpractice issues."

Dr. Metzinger is triple board-certified in Plastic Surgery, Otolaryngology/Head & Neck Surgery and Facial Plastic & Reconstructive Surgery. He is also a member of the American Society of Plastic Surgeons (ASPS), American Association of Plastic Surgery (AAPS), American Society for Aesthetic Plastic Surgery (ASAPS), American Society of Maxillofacial Surgeons (ASMS) and the Rhinoplasty Society.

In addition to his certifications, Dr. Metzinger received both his undergraduate and master's degrees from Tulane University then completed four years of study at the Louisiana State University School of Medicine, where he received multiple honors. He served a two-year residency in general surgery at the Carraway Methodist Medical Center in Birmingham, Alabama.

Afterwards , he pursued training in Otolaryngology/Head & Neck Surgery at the LSU Health Sciences Center in New Orleans, secured highly specialized fellowship training in Facial Aesthetic Surgery at McCollough Aesthetic Medical Center in Birmingham, AL. He then went on to receive additional training in aesthetic and reconstructive surgery at Johns Hopkins Hospital's Plastic & Reconstructive Surgery Department, where he received the John Staige Davis Resident Research award. Later he completed subspecialty training at the University of Maryland R. Adams Cowley Shock Trauma Center in Craniomaxillofacial Surgery and Microvascular Surgery.

In addition to surgical procedures, ASA's Aesthetic Director, Chantel Babin, offers a variety of skin care services at Spa Dolce Bellissimo, located inside the ASA clinic. Services include everything from customized facials, skin rejuvenation and microdermabrasion to laser skin resurfacing and medical grade chemical peels.

Although he's not a dermatologist, Dr. Metzinger believes everyone can benefit from following a skin care regime. "I encourage my patients not to leave the house without sunblock on," he said. "Being in the climate that we're in, where it's 40 degrees in the morning then 70 in the afternoon, we have all these reflective surfaces, and we're surrounded by water, it's a really good idea (to wear sunblock)." He recommends anything from sun protective clothing to sunblock to a good moisturizer.

Giving back to the community is also very important to Dr. Metzinger. He participates in the Wounded Warrior Project (WWP), a program that offers free programs and services to injured service members to fill in the gaps of government care.

Dr. Metzinger has hospital privileges at East Jefferson General Hospital, Tulane- Lakeside Hospital and Children's Hospital; has published over 50 articles in peer-reviewed journals and serves as a Clinical Associate Professor at Tulane's Health Sciences Center in the Department of Surgery, Division of Plastic & Reconstructive Surgery.

Dr. Metzinger is also proud to be coordinating the Foundation for Facial Aesthetic Surgery conference on March 23-26, 2017. The plastic surgery meeting, which draws 500 surgeons nationwide, has not been held in New Orleans since before Hurricane Katrina. "I think it's great to bring something to the area," he said.

In his spare time, the husband and father of three claims he is "a regular guy." He enjoys watching his kid's basketball games, sailing, golf, reading and watching movies. "I like to tell my patients 'I'm a simple country doctor, I just happen to be in a great profession.' I just love to do it. I'm out here in Metairie in the country and I love it," he joked.

Dr. Metzinger has a great team assisting him at Aesthetic Surgical Associates. "I'm surrounded by competent individuals—- my aesthetician, Chantel Babin, my practice administrator, Liana Drouilhet, my scrub nurse, Rhonda Abadie, my receptionists, Kimberly Perdomo and Carolyn Abadie— everybody is a consummate professional and everybody does their job very, very well," he boasted.

A great staff and a steady stream of patients certainly make for a rewarding job. The biggest reward, however, is "The look on a mother's face when you repair a child's cleft lip, or when a daughter has Poland syndrome and you restore their breasts, "there's nothing like it," Dr. Metzinger said. "You're helping people and how they see themselves."