At Spa Dolce Bellisimo, we offer our clients a number of different treatment options to help them regain their youth and feel better today. That is why we are pleased to offer chemical peels to help reduce the signs of aging. This process works by removing the outer aged layers of skin and to reveal the younger skin underneath.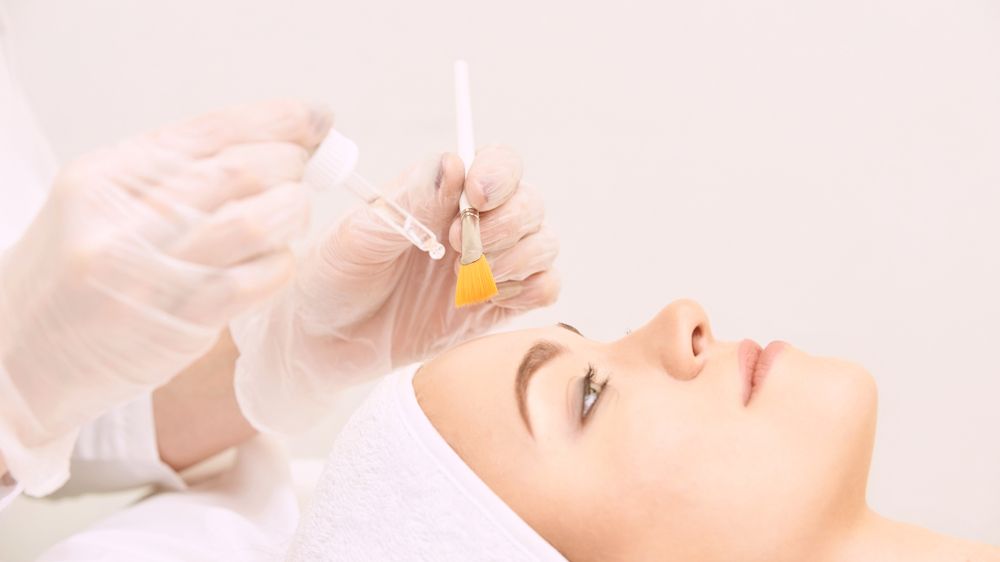 When to Consider a Chemical Peel

Chemical peels can be used on the face, hands, and neck, areas that are typically exposed to the sun and damaging environment. While a chemical peel may not be right for every person, there are some things to look for if you think that you may be a candidate. These are:


Reducing fine lines around the mouth and eyes

Treating mild acne scars

Help reduce or eliminate certain types of acne

To treat wrinkles or age spots caused by sun exposure

Improve the look of minor scars

Reduce age spots or other marks that may have been caused by birth control or pregnancy

Rejuvenate and improve the look and feel of your skin


If any of these issues sound like they could help you, then call Spa Dolce Bellisimo today to schedule your initial consultation. We are sure that our knowledge and cutting-edge tools can help you get the look that you want.



The Best Candidates for a Chemical Peel
Traditionally, patients who have light hair and skin are best suited for a chemical peel. Individuals who have darker complexions may still get the results that they want, but there is also sometimes an unevenness in skin tone after a procedure. However, at Spa Dolce Bellisimo, we can evaluate your specific case to let you know what type of results you should expect.


Additionally, if you have sagging skin, bulges, or deep to severe wrinkles, a chemical peel may not be the best approach for you. While that means that a chemical peel may not be right, we have a variety of different options that may be better suited for your needs. Call today to schedule your consultation so we can help you get the look you want.



Before the Peel
There are a number of potential issues that you should discuss with your doctor before your chemical peel. Some of these issues include reoccurring cold sores, a history of scarring easily or regularly, or if you have had facial x-rays. In addition, make sure to discuss your current medications. There are some medications that can interfere with the procedure and your results, so make sure to bring a list of current medications.


Additionally, before you actually get the chemical peel, it is important to ensure that somebody can drive you home.



The Procedure
On the day of your procedure, the treatment area will be thoroughly cleaned. Then a specific chemical mixture will be placed on your skin. It is first placed in small and indiscrete areas to create a controlled wound and observe how you react. Once we are sure that you are not having an adverse reaction, we can complete the peel.


Many patients say that the peel gave them a minor burning feeling that lasted for less than ten minutes. This feeling was then replaced by a stinging sensation. At home, we recommend using cool compresses, but for patients who had a deeper level peel may require pain medication.



After the Peel
As you recover, you will be more susceptible to the sun. Wear appropriate clothing and sunblock. Additionally, limit the time that you are outside. The healing process generally takes about a week to recover from.



Overview
If you are considering a chemical peel, contact Spa Dolce Bellisimo in Aesthetic Surgical Associates Metairie, LA today to schedule your consultation and see how we can revive your youthful skin.