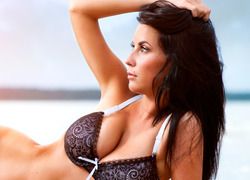 Do you look at your breasts and feel disappointed with their size? Do you feel that your chest looks out of proportion with the rest of your body and long to embrace larger feminine curves? Some asymmetry in the size of breasts is to be expected, but perhaps you are one of the many women who has a noticeable difference between them. Any of these issues can cause you to lose confidence in your appearance, with some women feeling embarrassed and even unattractive because of the size of their chest.


Fortunately, cosmetic surgery, and specifically breast augmentation, makes it possible to add volume to the breasts to either enlarge both of them or to give them greater symmetry. Our experienced surgeon, Dr. Stephen Eric Metzinger, understands that each woman's body and her goals for surgery are unique, and will work with you to tailor your procedure to your needs. This may mean combining our popular breast augmentation surgery with other breast procedures, such as a lift. If you are looking for a breast augmentation surgeon in Metairie, New Orleans, Dr. Metzinger has the skill and experience to help you achieve the voluptuous shape that you desire.
Types of Implants
Breast augmentation surgery requires the use of implants, which are placed into the chest cavity to add volume and shape to the breasts. We are delighted to be able to offer breast implants from all three of the FDA-approved implant manufacturers: Sientra®, Mentor®, and Allergan Natrelle®.


Implants fall into two categories. These are saline implants, and implants containing silicone. While saline varieties require smaller incisions for placement (since they are inserted empty and then filled with saline solution to the appropriate level), and saline can safely be absorbed by the body in the unlikely event of a rupture, they often create a rippling effect across the breast which makes them look and feel less natural than silicone alternatives. However, we are also able to offer some of the most sophisticated breast implants in New Orleans, including Allergan Natrelle® 410. Often referred to as 'gummy bear' implants due to their viscous texture that is much like that of candy of the same name, these cutting-edge implants are teardrop-shaped and more closely resemble natural fat tissue in both shape and texture.
Breast Augmentation Procedure
When you first arrive for your breast augmentation procedure, you will be given either a combination of local anesthesia and intravenous sedation or a general anesthetic. This is done to ensure that you aren't in any pain and you have little to no awareness of what is going on around you while the procedure is taking place. It will also mean that you are completely still, something which is essential to minimize any risks.
Once your anesthetic has been administered, Dr. Metzinger will make an incision around your areola (the dark part of skin around your nipple), in the crease of your breast, or under your arm. Exactly where the incision will be placed will depend on the size of our natural breasts and the type of implant you have chosen together. Wherever these incisions are, Dr. Metzinger will use precision care and attention to make sure that any scarring is minimal.
Saline implants are inserted empty and then filled to the desired level. This makes them especially effective for balancing breasts that are significantly asymmetrical. In contrast, silicone implants are made in specific sizes and must be inserted whole. This means that the incisions needed are usually much larger. Once in place, the implants will be manipulated into the desired position before the skin can be stitched closed and your breasts bandaged.
If you are having your breast augmentation procedure combined with a lift, which tightens the skin and causes the breasts to sit higher on the chest cavity, this will be carried out alongside the initial surgery. Similarly, if you have excess fat between your breasts and underarm, Dr. Metzinger can perform liposuction during your surgery, which will help to tone and smoothen this part of your body, giving you a slimmer silhouette and eradicating fat that spills over the top of your bra.
Am I a good candidate for breast augmentation surgery?
Dr. Metzinger is delighted to be able to offer his skill and expertise to patients who:
- Feel that their breasts look too small
- Have lost breast volume and/or are experiencing sagging as a result of pregnancy or prior fluctuations in their weight (but their weight is now stable)
- Are seeking breast reconstruction after a mastectomy
- Suffer from breasts that are asymmetrical in shape and/or shape
- Want to replace previous breast implants


However, in order to be considered a suitable candidate for breast augmentation surgery, patients must meet fairly strict criteria which include:
- Being over the age of 18 for saline implants or 22 for silicone
- Being in good general health
- Being able to safely undergo anesthesia and sedation
- Not be suffering from autoimmune conditions or those which affect your immunity such as cancer, AIDSs, or uncontrolled diabetes
- Being a non-smoker or able to commit to giving up smoking for several weeks before and after the procedure
- Not consuming excess alcohol or any illegal drugs
- Not pregnant or breastfeeding
- Not prone to excessive bleeding or infection
- Are choosing breast augmentation surgery for themselves, not under pressure from others, and can express this convincingly to Dr. Metzinger
- Having realistic expectations from the outcome of your breast augmentation procedure
Your candidacy will be discussed in detail with you at your confidential consultation.
Learn More About Achieving a Fuller Bosom
If you are looking for a breast augmentation surgeon in Metairie, New Orleans, look no further than Dr. Metzinger. A triple board-certified surgeon, he has performed countless transforming breast augmentations in Louisiana and beyond. When you choose Dr. Metzinger for your breast augmentation surgery, you can rest assured that your figure is in the most skilled and safest of hands. Please contact our offices to schedule your confidential consultation appointment.