Liposuction Can Slim Your Shape
We offer several different types of liposuction at our Metairie, LA practice, including traditional, laser, and ultrasound-assisted procedures. Dr. Stephen Eric Metzinger uses this technology to fragment and remove stubborn, unwanted fats, providing you with a slimmer, shapelier figure. Liposuction is a very versatile procedure that can be used in many areas of your body, including your waist, thighs, inner knees, cheeks, chin, neck, ankles, chest, upper arms, and more. It also typically requires only small incisions and local anesthesia, making it efficient and minimally invasive. Contact our office today to learn more about liposuction or schedule a consultation with Dr. Metzinger.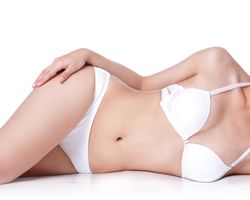 Determining Your Candidacy for Liposuction
You may be a good candidate for liposuction if:
You are within 30 percent of your goal weight with good underlying muscle tone. Liposuction is not a substitute for losing weight with a healthy diet and regular exercise. Patients should use these methods to eliminate fat deposits before pursuing liposuction.
Your skin is flexible and firm.
You do not suffer from diseases or conditions that could interfere with your ability to heal properly from the procedure.
You are in good general health. You do not have a history of adverse reactions or allergies to local anesthesia or any other substances used during liposuction. You should go over your medical history with Dr. Metzinger before your procedure.
You do not smoke.
You are not currently taking medications which could interfere with proper healing.
Dr. Metzinger will help you determine if you are a good candidate for liposuction during your initial consultation.
Liposuction Techniques
Dr. Metzinger performs several types of liposuction, each with unique benefits:
Standard (tumescent) liposuction: Dr. Metzinger will inject the fat deposits with epinephrine to limit excessive bleeding and lidocaine, along with a local anesthetic. Next, he will use a repeated manual motion to break apart and suction out fats through a cannula, which is a small tube.
Power-assisted liposuction: This kind of liposuction enhances the tumescent technique. In addition to administering epinephrine and lidocaine, Dr. Metzinger will use vibrating tools to more effectively break up the fat for gentler removal.
Micro air-assisted liposuction: A further improvement upon power-assisted liposuction, this type uses repetitive bursts of air to prepare fats for removal without generating potentially harmful heat.
Ultrasound-assisted liposuction: Like other techniques, ultrasound-assisted liposuction operates in the same way as the tumescent type, but uses powerful sound waves to melt fats for extraction. We use VASER®'s LipoSelection® ultrasound equipment for this procedure.
SlimLipo™: This system from Cynosure® utilizes two precise, powerful diode lasers at different wavelengths to liquefy fats so Dr. Metzinger can quickly and easily remove them.
Dr. Metzinger will discuss these options in more detail with you during an appointment. He can help you choose which technique will provide you with the most comprehensive, natural-looking contouring.
Learn More about Liposuction
Liposuction can help you achieve a more svelte figure by removing fat deposits that diet and exercise alone cannot. To find out more, or to schedule an appointment with Dr. Metzinger, contact our office today.